The Intermec SR61 Rugged HD/DPM is a cutting-edge handheld bar code scanner with impressive motion tolerance for effectively scanning 1D and 2D bar codes.
The Intermec SR61 Rugged HD/DPM is designed for direct part marking (DPM), with the ability to scan DPM labels that are dot peened, etched or cast on a variety of substrates. It can a 6.5-foot drop, extreme cold and hot temperatures, constant forklift vibration and even windblown dust and rain. That means it's useful in warehouse applications as well as some standard outdoor usage.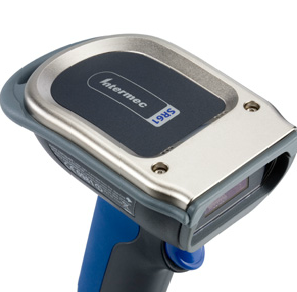 Applications and Typical Uses
The Intermec SR61 Rugged HD/DPM is specifically designed for use with DPM practices, although it does offer durability to conditions such as blown wind and rain, extreme heat and cold, and constant forklift vibration. Therefore, it's well-adapted for use in the warehouse setting and could also be used in applications requiring some outdoor exposure.
The Intermec SR61 has the ability to scan high-density bar codes and DPMs, and therefore is recommended for use in the defense, aerospace, automotive, pharmaceutical, and telecommunications industries. While there are specialized devices built intentionally to meet the need of decoding DPM, the Intermec S61 does so efficiently, accurately and with ease, providing a more cost-effective solution for scanning direct part marks. It's also well-suited for manufacturing environments, such as work-in-progress and quality checks, for inventory management, asset management and maintenance and repair of equipment across multiple industries.
Scanning Capabilities
In addition to its unmatched motion tolerance and 1D/2D scanning capabilities, the Intermec SR61 also supports image and real-time video capture. It can also read difficult-to-read DPM marks, including those that are dot preened, etched or cast on a variety of less-common substrates. Additionally, small, reflective and low-contrast marks are decipherable by the Intermec SR61.
This superior DPM performance doesn't detract from the Intermec SR61's ability to read standard bar code labels.
Operating Systems and Software
The Intermec SR61 comes equipped with Blackfin software for 2D scanning as well as some additional basic computing applications for reading data. With a USB 2.0 full-speed interface, data and scanned codes and images can be instantly delivered to applications with minimal configuring by the operator.
Durability
It can withstand drops from approximately 6.5 feet, some vibration and some non-extreme weather conditions, indicating that it could be used in outdoor environments in ideal weather conditions, but would likely not stand up to repeated driving rain, submersion in liquid, or other conditions.
The SR61 does offer a high impact housing and solid design that actually exceeds industrial and military standards. The Intermec SR61 can be expected to perform adequately in environments where dust, moisture or extreme temperatures create a less-than-ideal environment.
Additional Features and Functionality
The Intermec SR61 features a highly-visible aimer for greater scanning accuracy in less time, along with omni-directional reading to reduce re-positioning needs. With a USB 2.0 full-speed interface, users can instantly transfer scanned bar codes to the host application to avoid data loss. It's quick to read and offers superior motion tolerance, so it's well-suited for rapid scanning requirements, such as in warehouse applications.
The Intermec SR61's 2D scanner is capable of reading linear, stacked, composite and matrix bar codes, and the unit itself can withstand 26 drops from 6.5 feet – adding durability for common-use applications. Onboard illumination in the XR allows it to rapidly adjust to variable lighting conditions to maintain the speed and accuracy the TR61 is known for.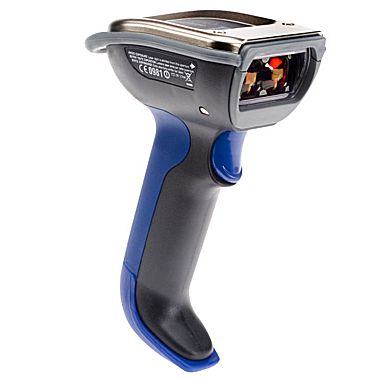 Key Features:
Lithium-ion battery lasts 10+ hours on a full charge
VGA+ resolution image capture
USB 2.0 full speed interface
Reads linear, stacked, composite and matrix barcodes
XR model adjusts to variable lighting conditions
Highly-visible aimer and omni-directional scanning
Scanning Capabilities:
1D (most common symbologies)
2D (most common symbologies)
Postal (most common symbologies)
Real-time video
Operating System: N/A
Built-In Software: Blackfin for 2D
Software Compatibility:
SmartWedge Lite
Easyset
And more (via a variety of communications interfaces)
Optional Accessories:
Hands-free stand
Desktop stand
Belt holster
Dangle suspension
Desktop or wall charger
USB cables
Wireless Bluetooth adapters
Cost: *Est. $415 to $845, depending on configuration
See more here: http://www.intermec.com/products/scansr61bdpm/