Barcode labels are useful tools for tracking assets and inventory across organizations and through the entire supply chain, but what type of barcode is most suitable for your needs? A myriad of barcode symbologies exist, some of which are better suited to different types of applications than others. Additionally, some industries have standards which aim to regulate the labeling of assets and physical inventory in order to establish universal practices for industry-wide consistency, making it easier to transfer assets and data to other organizations.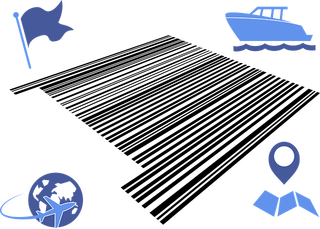 Making sense of all this information is no simple undertaking. We've put together this comprehensive guide to help you gain an understanding of the various types of barcodes as well as the standards that apply to barcode labeling in different industries.
Jump to a specific section using the links below:
Image via Pixabay by RomanoWilly

The Main Types of Barcodes
The many different barcode symbologies can be grouped in one of a few primary types:
Numeric-only barcodes
Alpha-numeric barcodes
2-dimensional barcodes
Numeric-only barcodes, as the name suggests, are barcodes consisting of only numbers. Alpha-numeric barcodes, on the other hand, contain a combination of numbers and alphabetic characters (letters). Both of these types of barcodes are considered one-dimensional barcodes. Two-dimensional barcodes, often referred to as 2D barcodes, are in the shape of a square or rectangle and contain many small dots arranged in a unique pattern.


The main benefit of 2D barcodes is that they can hold much larger amounts of data in a small space, and they remain legible even when printed or etched into a product in small sizes. 2D barcodes are used in a variety of industries ranging from manufacturing and logistics to warehousing and healthcare. A QR code is just one example of a 2D barcode that most people have encountered.

Image via Pixabay by geralt
Numeric-Only Barcode Symbologies
Numeric-only barcodes are one-dimensional barcodes that encode only numbers. "One-dimensional, or 1D barcodes, systematically represent data by varying the widths and spacings of parallel lines, and may be referred to as linear or one-dimensional," explains Scandit. "These include some of the traditional, or most well recognized barcode types such as the UPC and EAN code types." There are about a dozen different types of numeric-only barcode symbologies:
Images via Pixabay by OpenClipart-Vectors, PDPhotos

Alpha-Numeric Barcode Symbologies
Two-Dimensional Barcode Symbologies
Two-dimensional barcode symbologies, otherwise known as 2D barcodes, are graphical images that store information on both the horizontal and vertical planes. This design enables 2D barcodes to encode up to 7,089 characters – substantially more than any 1D barcode is capable of encoding. 2D barcodes offer the ability to store more data in a single code and result in fewer errors deciphering codes thanks to the ability to build in redundancies or self-checking mechanisms, possible because of the greater information-storage capacity of 2D codes. 

2D barcodes are often used in conjunction with smart phones. The user simply photographs a 2D barcode with the camera on a phone equipped with a 2D barcode reader, which also makes them easier to transmit accurately via SMS and other messaging services. Finally, 2D barcodes are more secure, as the information stored in a 2D code is easily encrypted. There are several types of 2D barcode symbologies.

There are a few other types of 2D barcodes, but they aren't used as frequently as QR codes, Data Matrix, and PDF417, which make up the primary types of 2D barcodes used today. A few of these two-dimensional barcodes include MaxiCode, a fixed-length barcode used by the United Parcel Service to streamline and automate package sorting, Code 49, Code 16k, Codablock, and others.

Images via Pixabay by geralt, OpenClipart-Vectors
Barcode Standards and Specifications
With such a variety of barcode symbologies and applications, companies and organizations around the world are generating barcodes all the time. But as goods flow through the supply chain and parts and products make their way from one company to another, consistency is necessary to streamline the flow of information. Standards are developed for precisely this purpose – some by industry regulators, others by entities that focus on the standardization of certain symbologies.
AIM (Automatic Identification and Mobility) explains that there are a few types of standards including official, ad hoc, and de facto, but for the purposes of labeling parts, products, and items, the discussion centers on official standards which are sanctioned by an accredited standards body, such as the entities described below.  Technology standards outline specifications on how things work, and application standards define how a technology is used, rather than how it works.
The International Organization for Standardization (ISO) states, "A standard is a document that provides requirements, specifications, guidelines or characteristics that can be used consistently to ensure that materials, products, processes and services are fit for their purpose." Below, listed in alphabetical order, are a selection of the standards-developing organizations that aim to globalize standardization in various industries related to the manufacture, data collection and sharing, transfer, and quality of products in the global supply chain.


With multiple influences involved in the development and establishment of industry-wide standards, maintaining compliance is a key challenge for organizations spanning every facet of the global economy. In many cases, barcodes and asset tracking systems aid companies in maintaining compliance with strict industry regulations related to reporting and monitoring. Education in the industry standards that impact your business is essential for long-term success, coupled with a partnership with a barcode label and asset tracking supplier well-versed in these industry specifics.
Asset Tracking Solutions from Camcode: