Designed for general-purpose applications, the Gryphon 4000 series is the premier level of data collection devices in the Datalogic family. Combining 2D scanning capabilities with motion sensing technology, the Datalogic Gryphon I GD4400 is a user-friendly device for non-harsh environments.
Datalogic's Motionix™ motion-sensing technology detects the natural actions of the user, automatically setting the scanner to the correct scanning mode. This reduces human error and eliminates repeat scanning for performance issues due to improper mode.
It works both with and without a stand, providing a broader range of possible applications in both handheld and presentation mode, and programming configurations for both the aimer and scanner to suit specific preferences and requirements.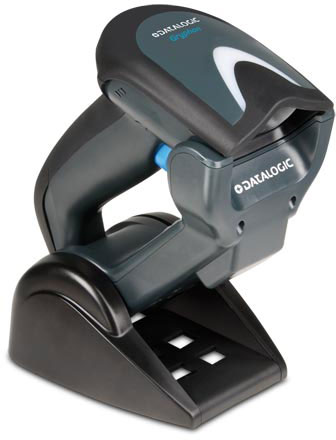 Applications and Typical Uses
The Datalogic Gryphon I GD4400 is capable of handling fast-moving codes and offers comprehensive scanning capabilities for use with a wide range of symbologies and barcodes, making it a useful handheld scanning device for high-volume operations such as warehousing. However, the Gryphon I is not equipped with any outstanding durability components, such as an especially rugged housing, so it does not meet military-grade dust and water protection specifications like IP-65, a component of the MIL-STD-810F military specification classifying mobile computing devices for dust and water resistance.
It is ideal for general-purpose applications, such as education and office-based environments, as well as industrial applications in which the scanner will not be exposed to harsh conditions or extreme temperatures. It does withstand repeated drops to a concrete surface from just under six feet, so use in the warehousing setting is feasible provided there are no extenuating circumstances that may compromise the device.
Scanning Capabilities
The Datalogic Gryphon I GD4400 is compatible with all common 1D and 2D codes as well as postal, stacked and composite codes, including the oft-utilized PDF417. If your requirements include reading smaller, condensed codes, Datalogic also offers High Density (HD) models.
The Gryphon I also offers motion-sensing technology to enable rapid and accurate scanning of fast-moving barcodes, such as in production settings or warehouse operations.
Operating Systems and Software
Choose from a multitude of interface options for the Datalogic Gryphon I GD4400, including RS-232, IBM 46XX, USB or RS-232, USB, Keyboard Wedge and Wand.
Durability
The Gryphon I is designed for general use, but is not especially rugged or durable for use in outdoor conditions or harsh environments. The Gryphon I has not been tested to military specifications and therefore cannot be used in contexts in which IP-65 or other certifications are required for regulatory compliance.
The Gryphon I does withstand repeated drops to a concrete surface from a height of 5.9 feet, so it can be used in situations in which users may stand on ladders or stools to scan barcodes on upper shelves.
Additional Features and Functionality
Datalogic offers an HD model of the Gryphon I for applications requiring the scanning of small and/or extremely dense codes. Additionally, the Datalogic Gryphon I GD4400 comes with Datalogic's Motionix™ motion-sensing technology, a feature which automatically selects the appropriate scanning mode based on the operator's actions to improve efficiency and accuracy, ultimately reducing operating costs and reducing the likelihood of human error.
Key Features
Motionix™ motion-sensing technology
Omnidirectional reading
High-visibility, 4-dot aimer with center cross
Image capture and document scanning capabilities
Advanced motion tolerance optics
Multi-interface options
Patented 'Green Dot' provides good-read feedback
Reads 1D, 2D and postal codes plus stacked and composite codes
5-year factory warranty
Scanning Capabilities
The Datalogic Gryphon I GD4400 offers a range of scanning capabilities, including all common 1D and 2D symbologies, as well as composite and stacked barcodes and postal codes. With image-capture scanning technology capturing BMP, JPEG, TIFF formats and more, and document scanning capabilities, the Gryphon I is a versatile handheld scanner capable of meeting a myriad of scanning requirements in general-purpose environments. While the typical depth-of-field varies based on the symbol, the Gryphon I can read some types of barcodes from a distance greater than 15 inches.
1D Supported Symbologies:  Autodiscriminates all standard 1D codes, including GS1 DataBar™ linear codes
2D Supported Symbologies: Aztec Code; China Han Xin Code; Data Matrix; MaxiCode; Micro QR
Code; QR Code
Operating System: Datalogic Aladdin configuration program (available for download at no charge)
Built-In Software: JavaPOS Utilities, OPOS Utilities (available for download at no charge)
Software Compatibility: Multi-interface capable for connection with additional devices and data transmission
Included Accessories:
Varies based on kit purchased
Some kits include bases and cables
Optional Accessories:
Mounts
Stands
Cables
Holsters
Power adapter
Additional power cords and supplies
Cost: *Est. $295
See more here: http://www.datalogic.com/eng/products/automatic-data-capture/general-purpose-handhelds/gryphon-i-gd4400-2d-pd-174.html
Images via Datalogic and Barcode Giant