Preventive maintenance (PM) is one of the most important methods used to monitor and service HVAC equipment. As a form of proactive maintenance management, PM involves the use of periodic checks to ensure proper operating conditions and make routine adjustments such as changing filters. Performing regular HVAC maintenance can reduce the likelihood of a major equipment breakdown by as much as 95%.
In this post, we'll review 4 essential practices to incorporate into your preventive maintenance program, and you can also download our interactive HVAC preventive maintenance checklist that covers all the essential steps for HVAC preventive maintenance in the fall/winter and spring/summer to keep your equipment in optimal working order. These recommendations will help you structure your plan and ensure that you're covering all the bases to keep your HVAC equipment in optimal operating condition. This should give you an excellent reference point for ensuring proper HVAC maintenance at any facility.
1. Understand the Complete Equipment Specifications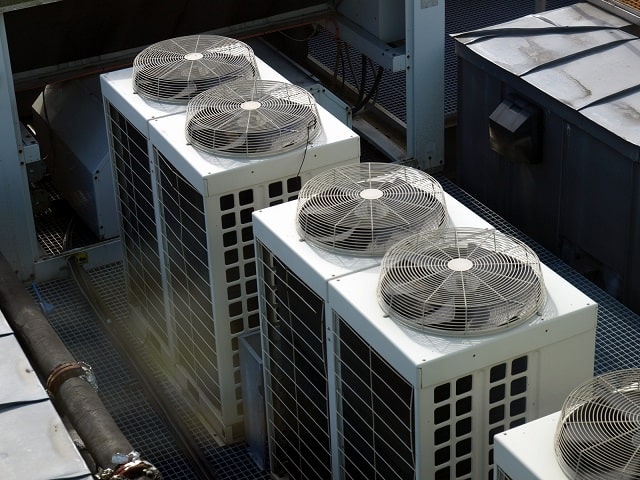 Given the high replacement cost of most HVAC units, it is important to maintain a clear inventory of all equipment components, spare parts, and consumable parts. Primary components of an HVAC system will include a furnace, heat pump, and air conditioning unit. Each of these units will have unique maintenance needs and may require specific attention at different times.
Understanding the size, features, and efficiency levels of an HVAC unit will help determine the optimal operating conditions and develop a strong PM plan. Modern AC and furnace units will come with an efficiency rating to help summarize the capabilities of the equipment. These are:
SEER (Seasonal Energy Efficiency Rating) – A number rating from 13-21+ indicates how efficient a single AC unit is as compared to other models. A higher number offers better cooling with lower energy costs.
AFUE (Annual Fuel Utilization Efficiency) – A percentage measuring furnace efficiency from 80% to 100%, with higher numbers offering better heating efficiency with lower energy costs.
2. Develop Seasonal Task Lists
The changing of seasons is an excellent time to perform preventive maintenance work. Since the AC unit will be used during the summer and the heating unit must perform well during the winter months, it's important to proactively perform these checks prior to changes in weather conditions. Many industry sources recommend creating a task checklist for spring/summer and fall/winter work. The actions for spring and summer should include replacing AC filters, cleaning condenser and evaporator coils, and ensuring that fans and motors are working properly. The focus of fall and winter PM work will center around inspecting the furnace hardware, including the ignition and burner source.
Grouping your tasks into dedicated lists is a longstanding best practice for preventive maintenance given a large number of review items and the importance of timing. A good HVAC preventive maintenance program will also incorporate additional checklists into the work plan. These can include monthly or quarterly tasks and annual items such as replacing filters and carbon monoxide detector batteries.
3. Cover All Three Major HVAC PM Categories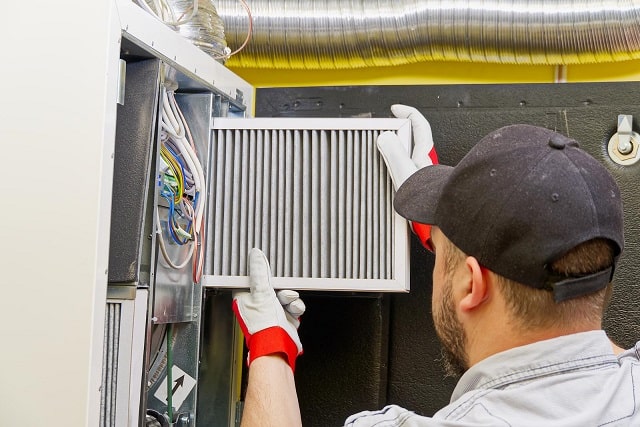 There are three major categories of HVAC components that should be covered in a preventive maintenance plan. Dividing the workload in this way helps technicians and equipment owners ensure that the most critical tasks are completed for each area. The recommended categories are:
General Service Checks. This category refers to the extended parts of an HVAC system including ductwork, electrical lines, and other facility infrastructure. Some of these areas may have overlap with facility maintenance work, so it's important to coordinate efforts to ensure all critical components are checked.
Heating (Furnace) System. The heating hardware for an HVAC system is typically stored indoors and may include a furnace or boiler. These heating systems may use electricity, gas, or oil to power the unit. All the heating components should be checked regularly, including consumable parts and air filters.
Cooling (AC) System. The cooling system, typically installed as a roof-top unit (RTU), is designed with coils that contain refrigerant for optimal thermal transfer between the components. Each of the primary components should be inspected at a reasonable interval to ensure the system is functioning properly.
To ensure that preventative maintenance tasks are completed in a timely manner and coordinate work between facility maintenance technicians and HVAC technicians, implement facilities management asset tags on HVAC equipment and components to streamline documentation and monitor the condition of your equipment. These tags can be integrated with preventive maintenance software systems to manage work orders, manage inventory, and stay on top of preventive maintenance tasks to keep your HVAC equipment in optimal working condition throughout the equipment lifespan.
4. Don't Neglect Continuous Tasks
Even though monthly, quarterly (seasonal), and annual checklists are extremely helpful, there are also some HVAC components that can be continuously monitored. One common approach is the use of in-line sensors that can provide real-time data to your central maintenance software system. These sensors can also provide information that is helpful for predictive maintenance work. In addition to this, technicians and facility employees should be trained to perform quick inspections of ducts, crawl spaces, and exterior hardware whenever they pass by these locations. If an issue is identified, it can be addressed immediately and save time and costs.
HVAC preventive maintenance can extend the useful life of the hardware that is used to heat and cool your facilities. These systems do an incredible amount of work in keeping the temperature of a building steady and typically operate nearly continuously for months at a time. By considering these essential best practices and using our interactive HVAC preventive maintenance checklist you can design an excellent preventive maintenance system for your operation.