The typical factory, warehouse, or shop floor can contain thousands of assets and inventory items that must be tracked and maintained. Failing to properly locate and service equipment can lead to unexpected shutdowns, lost time, and significantly increased expenses. Most businesses today use software to organize their inventories such as a Computerized Maintenance Management System (CMMS) or an Enterprise Asset Management (EAM) platform.
Tool inventory and equipment tracking software systems can be integrated with barcode labels and asset tags to track your equipment and high-value assets, as well as your tool and spare parts inventory, to ensure that you can keep your equipment in optimal working order. With an effective asset tracking system coupled with a robust tool inventory and equipment tracking solution, you'll avoid unexpected business interruptions that can arise from poor maintenance planning or back-ordered parts.
In this post, we've rounded up 25 of the best software systems for tracking tool and equipment inventories. Included in the list are complete enterprise solutions and highly specialized tools for more niche applications. By comparing the features of these tracking software systems, you'll be able to select an option that works best for your operation. Note that our list is simply displayed alphabetically and is not ranked or rated in any special way.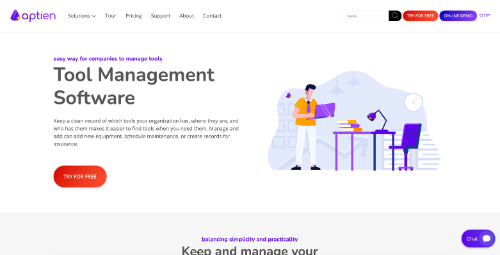 Aptien is a tool management software platform that makes it easy to track and monitor equipment and other office assets. By creating a centralized repository for all assets, Aptien allows companies to reduce their reliance on spreadsheets and manual tracking methods. This platform also includes support for workforce management and optimization.
Key Features:
Contract management
Upload images and documents
Calibration and maintenance scheduling
Cost:
Free: For a single user and 100MB of storage
Team: $6/month for up to 10 users
Company: $11/month for up to 300 users
Enterprise: Contact for a quote
Asset Essentials, from Dude Solutions, is a cloud-based CMMS that can be used to streamline your tool and equipment workflows. Assets can be added to the platform using barcodes with unique identifiers assigned to each asset. The mobile application gives technicians access to excellent tools that can be used from any location in the field.
Key Features:
Create maintenance work orders
Equipment cost tracking
GIS asset management
Cost: Contact for a quote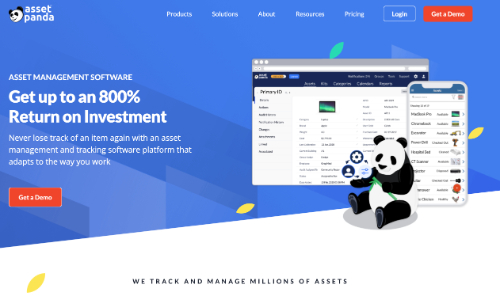 Asset Panda is an easy-to-use asset management platform with an accessible user interface and convenient mobile application. This software can be used to track everything from small hand tools to large pieces of industrial equipment. The program also uses a built-in scanner that can read barcodes from any compatible device.
Key Features:
Role-based access
Custom notifications
Complete asset audit trails
Cost: $125+/month for up to 500 assets (additional price tiers available for more assets)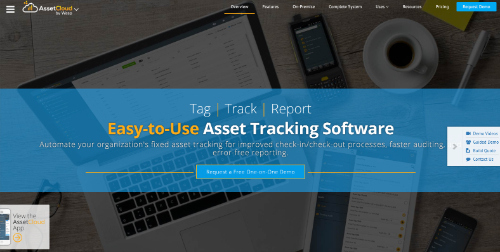 AssetCloud, from Wasp Barcode, is a complete asset tracking system. This platform is known for a simple asset check-in and check-out process and integration with the Wasp series of barcode scanning hardware. The AssetCloud suite can be used for complete facility management and also used to track IT assets and other specialized equipment.
Key Features:
An easy-to-use interface
Capital management Regulatory compliance tools
Cost:
AssetCloud Complete: $995+ annual fee for a cloud-based deployment
AssetCloudOP Basic: $1,795+ one-time fee for self-hosted deployment
AssetCloudOP Complete: $6,995+ one-time fee for self-hosted deployment and enterprise features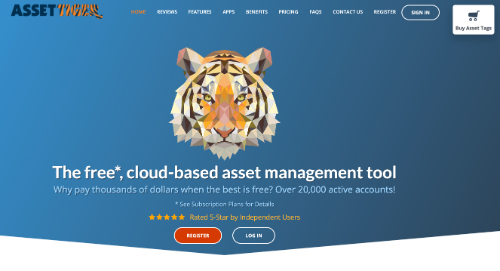 AssetTiger is a convenient asset management software program that is cloud-based and compatible with barcode scanners. The system can also generate customized reports for reviewing data related to depreciation and preventive maintenance. Users can also access AssetTiger through an Android or iOS mobile app.
Key Features:
Customized email alerts
In-app barcode scanning
Maintenance scheduling
Cost:
Free for up to 250 assets
ATS-500 Plan: $100/year for up to 500 assets
ATS-2500 Plan: $200/year for up to 2500 assets
Additional plans are available for larger asset quantities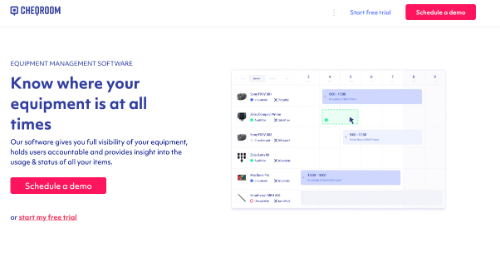 Cheqroom is an equipment management software solution that helps maintain visibility into your important assets. The platform is designed to be simple, and users can easily add maintenance flags to equipment to identify needed repairs and cleaning. You can also set custom reminders to pick up or drop off items that are due for an exchange.
Key Features:
Geolocation tracking
Barcode scanning
A complete mobile app
Cost:
Essentials: $100/month up to 500 assets
Standard: $200/month up to 500 assets
Plus: $300/month up to 5oo assets
Enterprise: Contact for a quote
Customized plans available for each tier
Dematic Sprocket is an asset management platform that is designed for use with a web-based browser. This software is an excellent choice for managing the entire lifecycle of each asset, including tools and equipment. The system also comes with preloaded templates for assets and facility plans, making it very easy to get up and running.
Key Features:
Workflow management
Preventive maintenance scheduling
A user-friendly dashboard
Cost: Contact for a quote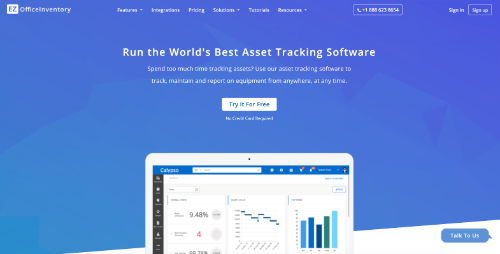 EZOfficeInventory is a well-known asset tracking software platform with simplified workflow designs. A comprehensive log is maintained for each tool or piece of equipment, creating a reliable audit trail. The Access Control module can be used to set permissions and asset assignments based on teams, departments, or locations.
Key Features:
Custom user roles
Customized asset labels
Metrics and reporting
Cost:
Essential: $35-40/month – unlimited users, 250 maximum assets
Advanced: $45-52/month – unlimited users, 250 maximum assets
Premium: $50-60/month – unlimited users, 250 maximum assets
Enterprise: Contact for a quote
More pricing tiers available for additional assets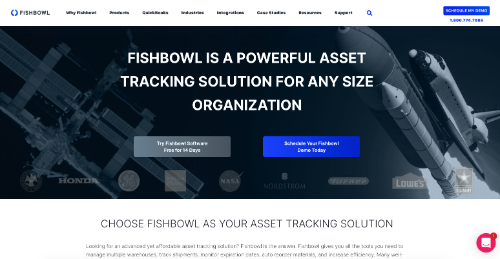 Fishbowl is a comprehensive asset tracking platform that can be scaled to meet the needs of any organization. There are several different versions of this software program, including Fishbowl Manufacturing and Fishbowl Warehouse. Companies can also purchase a cloud-based version called Fishbowl Online.
Key Features:
Serial number and lot tracking
Supports multiple locations
Integrations with popular software platforms
Cost: Contact for a quote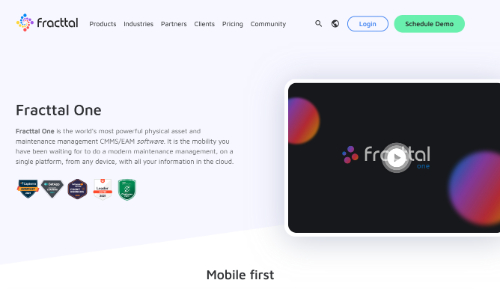 Fracttal One is a modern, cloud-based CMMS/EAM platform that centralizes all your important tool information. This software is easy to set up and offers several user interface views, including a kanban-style board. A team management tab makes it easy to modify permissions for employees, customers, or contractors.
Key Features:
A user-friendly dashboard
View tasks in a timeline view
Light and dark viewing modes
Cost:
Community: Free, up to 2 users
Basic: $195/month, up to 5 users
Business: $485/month, up to 10 users
Corporate: Contact for a quote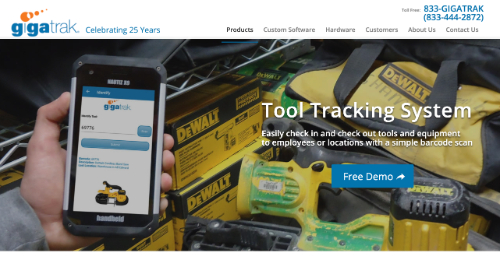 Gigatrak has been around for over 25 years and continues to develop customized hardware and software solutions for contractors and equipment-heavy businesses. Their tool tracking software program can be used to schedule maintenance work, track usage, and manage costs. The platform supports an unlimited number of tools and locations.
Key Features:
Audit management
Available as on-premise or cloud-based
In-app barcode scanning
Cost:
Self-Hosted: $2,495+ one-time fee
Cloud-Based: $75+/month per user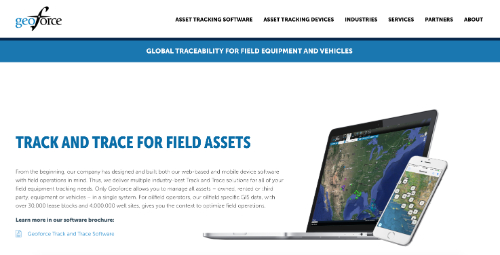 Geoforce is a track and trace solution for monitoring field equipment and other assets. The software is especially capable of tracking vehicles and powered equipment that are moved regularly. This platform provides true global traceability and can be integrated with the full line of Geoforce asset trackers.
Key Features:
Easy integration with tracking hardware devices
Monitor engine run time
A free mobile app
Cost: Contact for a quote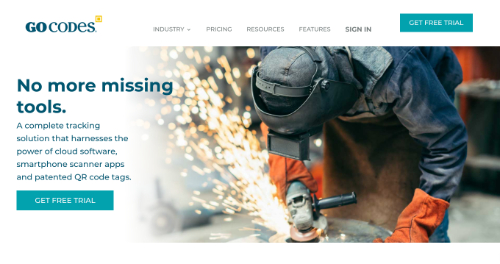 GoCodes is a complete tracking platform that comes with a cloud-based software system, smartphone scanning app, and integrated QR code tags. The user interface is easy to navigate, and employees can access the system using any compatible device or smartphone. This simple solution is a nice choice for businesses that require an effective off-the-shelf product.
Key Features:
Asset location data using Google Maps
Patented QR code tags
A free app for Android or iOS
Cost:
Standard: $450/year, up to 200 assets and 3 users
Premium: $75/month, up to 500 assets and 5 users
Premium Elite: $138/month, up to 1000 assets and 10 users
Professional: $200/month, up to 2000 assets and 20 users
Enterprise: Contact for a quote
Intellitrack has all the features needed to fully manage inventory, assets, and mailroom procedures. The developers of this software have strived to make the platform easy to navigate for daily use. Intellitrak also helps streamline company procedures with a rapid check-in and check-out process for assets.
Key Features:
Package chain of custody
Rapid check in/out process
Paperless picking
Cost: $75/month per user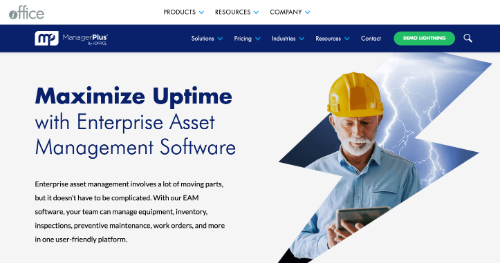 ManagerPlus, from iOFFICE, is an enterprise asset management system for organizing preventive maintenance work, work orders, and inventory. As a cloud-based platform, ManagerPlus is responsive and can be accessed from any compatible device. A wide range of industries could take advantage of the software's features, including advanced business reporting.
Key Features:
Real-time asset inspection status
The Lighting mobile app
An open API for easy integrations
Cost:
Lightning Plus: $85/month per user
Lightning Experience: $125/month per user, adds unlimited sites and locations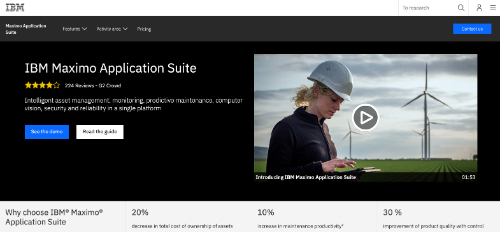 The IBM Maximo application suite brings intelligent asset management to operations that require careful monitoring of tools and equipment. This solution combines CMMS, EAM, and APM applications into a single platform for a simple and powerful solution. Maximo can be installed on-premises or deployed with cloud access.
Key Features:
AI-powered remote monitoring
Support for predictive maintenance
Mobile EAM access
Cost: Contact for a quote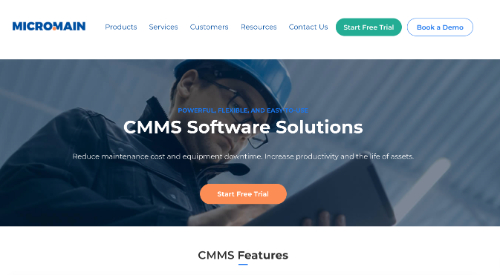 MicroMain is a computerized maintenance management solution designed to increase asset lifetime. A central component of MicroMain is the work order management tab, which controls all equipment work that is available and assigned in the system. This is an advanced platform that is IoT and Industry 4.0 ready.
Key Features:
Parts and inventory management
Workforce tracking
QR code and barcode enabled
Cost: Contact for a quote
ON!Track, from Hilti, is a complete tool tracking and asset management system that also includes workforce and safety management features. This software also includes excellent financial tools for calculating overhead costs and maintenance expenses. ON!Track is also an IoT-ready platform that can be connected to real-time sensors for active monitoring.
Key Features:
Proactive tracking gateways
Tool crib optimization
Asset cost management
Cost: Contact for a quote
SAP offers its own EAM platform that integrates seamlessly with its large software library. This software includes IoT connectivity, machine learning, and predictive analytics for powerful capabilities that can handle complex operational needs. SAP EAM also supports field service teams with scheduling and dispatch tools.
Key Features:
Collaborative EAM
360-degree view of each asset
Mobile asset management
Cost: Contact for a quote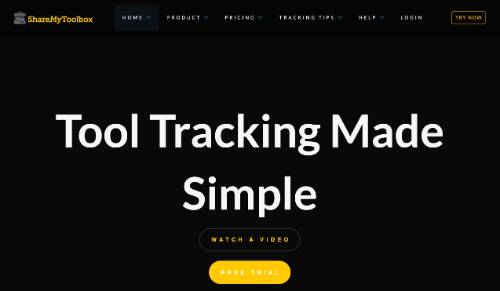 ShareMyToolbox is a complete tool and equipment tracking system that is designed for contractors. This platform comes with an intuitive mobile app that makes it easy to view the available and loaned tools. Users can also upload images and documents related to each asset that is being tracked.
Key Features:
A 14-day free trial
Valuation and insurance reporting
Mobile app for iOS and Android
Cost:
Base System: $50/month for 1 user
Additional Users: $50/month for 5 users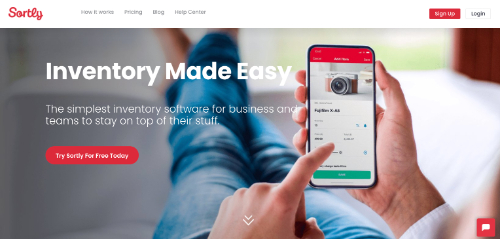 Sortly is a simple inventory management app that can help businesses keep track of their assets. The software can be accessed through the web or on the Sortly mobile app. This platform is compatible with QR codes and barcodes for easy item scanning, and users can create custom alerts for inventory levels and status changes.
Key Features:
Compatible with wired and Bluetooth barcode scanners
Custom user permissions
Auto-generated PDF reports
Cost:
Advanced: $25-$49/month for 3 users
Ultra: $59-$119/month for 5 users and unlimited entries and custom fields
Enterprise: Contract for a quote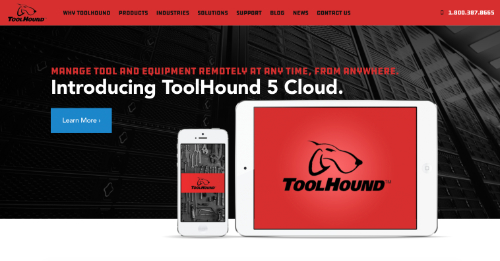 ToolHound is a fully functional tool and equipment tracking system that is available as an on-premise software platform or a cloud-based deployment. The company also offers ToolHound SecureCrib, a fully automated kiosk that uses RFID tags or barcodes to allow employees to check equipment in and out of inventory. Additional add-on modules and hardware accessories are available.
Key Features:
Consumable and tool tracking
Supports barcodes and RFID
Monitor employee equipment certifications
Cost: Contact for a quote
ToolWatch has been in business for over 29 years and has created an operations management system that is perfect for warehouses and office environments. Users can track equipment service work and maintain an accurate inventory of all assets at each company location. The system also works well in the field, giving technicians access to real-time updates and software features.
Key Features:
Unique asset IDs
Track quantity and location for each item
A comprehensive Unlimited Access plan
Cost: Contact for a quote
ToolWorks is a tool tracking and inventory management system that supports multiple locations. The software also includes an advanced AI-powered scanner that can identify equipment without the use of barcodes. ToolWorks is offered as a basic Pro subscription or Enterprise plan that adds essential enterprise features such as purchase orders and multi-project management.
Key Features:
Complete inventory management
Real-time notifications
A user-friendly mobile dashboard
Cost:
Pro: $25+/month for up to 500 assets (pricing increase with assets under management)
Enterprise: $35+/month for up to 500 assets (pricing increase with assets under management)
UpKeep is a complete CMMS solution that has extensive tools for managing asset operations. As a mobile-first platform, this software is designed for use in the field and is a great resource for technicians at all levels. You can also integrate UpKeep with APM, EAM, and ERP systems for streamlined maintenance and equipment workflows.
Key Features:
A centralized command center
Support for IoT sensors
Integrations with 3rd-party platforms
Cost:
Community: Free, with basic capabilities for small businesses
Starter: $45/month per user, with features for small businesses
Professional: $75/month per user, with features for small to mid-size businesses
Business Plus: $120/month per user, with features for advanced applications (5 user minimum)