SandShield UID Labels with Extreme Abrasion Resistance for MIL-STD-130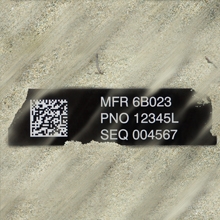 Camcode's Metalphoto® SandShield UID Label and SandShield Label Cover are designed for applications requiring extreme sand or gravel abrasion resistance. The SandShield UID Label is constructed of a Metalphoto anodized aluminum label, over laminated with an 8.0 mil highly abrasion-resistant film. This UID tag has high sand, gravel and abrasion resistance, good UV resistance and good resistance to most general purpose cleaners, mild acids, oil and water. The SandShield UID label comes with holes for mechanical attachment or a 5.0 mil high-performance adhesive designed to permanently bond to metals and low surface energy (LSE) materials. An optional CARC adhesive is also available. Camcode's SandShield is also available as a Label Cover, supplied as pre-cut clear blanks, which can be laminated over customer made labels for added abrasion resistance.
Product Features
High abrasion resistance.
Available in preprinted labels or as pre-cut clear label covers.
Metalphoto is the most specified label material in history for DoD applications, and the best choice for MIL-STD-130 applications requiring durable UID labels.
Photographic quality black and silver graphics are high contrast with excellent resolution.
Attachment options include high performance 3M adhesives, CARC adhesive, or holes for mechanical fasteners.
All Camcode UID labels are verified to the required print quality standards. Registration service is also available.
Product Specifications
Material
.020″ and .032″ Metalphoto over laminated with 8.0 mil gloss clear abrasion resistant film.
Attachment
Available with pressure sensitive adhesive or holes for mechanical attachment.
Label Copy
Several font types are available, as well as logos or other design elements.
Symbologies
All common symbologies available, including code 3 of 9, I2 of 5, 128 and Data matrix.
Colors
Black graphics on silver background is standard. Tactical camouflage background colors are also available.
Standard Sizes
Several standard and custom sizes available.
Packaging
On sheets or in bags, in boxes, in sequential order. 100% no missing numbers.
Shipment
10-15 working days from receipt of order and approval of artwork. Expedited shipment is available for an additional charge.